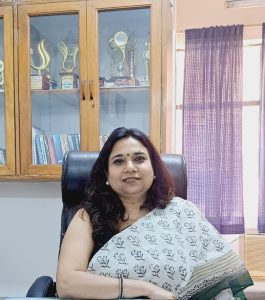 Dr. Asmita Dubey
Principal, M.A., Ph.D. (Economics), UGC-NET, MBA, LL.B.
She assumed the responsibility as a Principal to oversee the continuous development of college while maintaining the quality of education through her enriched experience of teaching and administration for more than 20 years to her credit. She did her graduation from C.S.J.M. University and won Chancellor's Medal in the year 1998. She has completed her Research on the topic "Regional Pattern of Industrial Development in Uttar Pradesh" in the year 2007 and joined the institution in the Department of Economics. Her valuable contribution in the field of education has created great team to further strengthen healthy and conducive environment for teacher and taught. She possess strong conceptual, analytical and planning skills. She has not only been the source of inspiration for the students but also for the staff members who under her guidance are scaling new heights of success. She actively looks after the administration of college, to maintain its excellence in academics through her innovative techniques, methodologies and unmatched discipline oriented approach towards the students.
Dr. Hema Rohra
M.A.(Eco.),M.B.A, M.Phil,UGC-NET, Ph.D.
Presently holding the position of Chief Proctor in the college. She has been serving as an Assistant Professor in the Department of Economics since 2008. She is a graduate and post graduate in Economics from B.H.U. and has done her M.Phil. (Economics) from Mahatma Gandhi Kashi Vidyapeeth, Varanasi. She holds Ph.D. on the topic "Human Resources Training and Productivity in L.I.C. of India (with special reference to Kanpur zone)" from C.S.J.M. University, Kanpur. She holds an M.B.A. degree with specialization in HR. She was also a visiting faculty (Economics) at ICSI, Kanpur Chapter. She has to her credit a number of published papers in National and International Conferences. She is a member of the editorial board of Jagran Journal of Commerce and Economics and also coordinates various curricular and extracurricular activities. She was graced with the best teacher award at the college.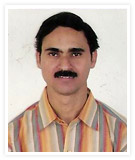 Dr. Jitendra Singh
M.A. (History), Ph.D, N.E.T, B.Ed.
He is a faculty of Arts in Jagran College. He is a Post Graduate in History along with the degree of Doctorate, his Research topic was "Historical Study of Social   Economical Development of Kanpur in The Nineteenth Century". There are eleven research papers to his credit published in National and International Journals.
Dr. Anamika Singh
M.A. (Sociology,Hindi), Ph.D
She has been awarded Ph.D.(Sociology) from CSJM University, Kanpur.She has 17 years of teaching experience at Under Graduate and Post Graduate level. She has completed her Research work on the topic Vagrant in Slum Areas of Kanpur. Her areas of interest are Rural Sociology, Vagrancy Juvenile Delinquency. She was awarded Saraswati Seva Puraskar (2008-09) for her work in the Slum Areas of kanpur.She has been working as an Assistant Professor in Jagran College since 2012.She has obtained her B.A. Honours in Psychology.She has completed M.A. in Sociology and Hindi from CSJM University,Kanpur.She has presented 22 papers at National and International Seminar and Conference.
Ms. Sonal Verma
B.Ed., M.A. (Psychology), UGC-NET
She is a faculty of Arts, Department of Psychology at Jagran College. She obtained her M.A. and B.Ed. degree from CSJM University, Kanpur. She has qualified UGC-NET in Psychology. Her area of interest is educational psychology.
Mr.Vaibhav Dwivedi
M.A ( Political Science ), UGC-NET
He is a Faculty of Arts at Jagran College. He holds Master's Degree in Political Science with Specialisation in International Relations from Banaras Hindu University. He is pursuing Ph.D. from C.S.J.M University, Kanpur. His key areas of interest are International Relations, Political Theory and Indian Politics.
Dr. Abha Saxena
M.A(Psychology), Ph.D., B.Ed., PGDGC
With a rich experience of more than 15 years in varied institutes, she is presently working as an Assistant Professor in psychology at Jagran College. since the year 2008. She was guest faculty to teach subject of Industrial Psychology to the Engineering students of GCTI,Kanpur and to the trainee counsellors of ADI, Lagos. She is trained counsellor and freelance practitioner associated to various NGO's i.e., Pious Vision Foundation, Forgiveness Foundation, Uttarakhand Mahila Manch Sakhi Kendra, KanpurAttitude Development International, Lagos,ANEPCO,Lagos,Nigeria. She has presented more than 20 research papers in National Seminars, 8 in International Seminars. She has more than 10 published papers in various reputed journals and 7 papers in edited books. She is life time member of Indian Journal of Psychology and Mental Health, Indian Journal of Human Relations, The Indian Science Congress and Indian Association of Human Behaviour etc.